North Eastern 4x4 teams up with The Prince's Trust to help local youngster
10/04/2015
We've teamed up with youth charity, The Prince's Trust, to give a local unemployed teenager the chance to gain experience in his dream role.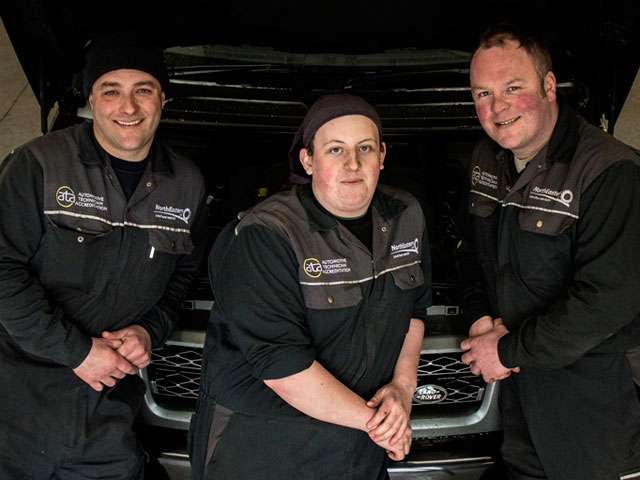 We welcomed local unemployed youngster, James Stubbs, (18) to our team of fully-trained technicians for a short-term placement.

James' two-week placement is part of the Certificate in Employment, Teamwork and Community Skills (ETC) that he is completing with The Prince's Trust, delivered by Stockton Riverside College.

The certificate aims to enhance individuals' confidence, motivation and employability and includes a work placement, community project and a team challenge.

James, from Middlesbrough, has been assisting the technicians at North Eastern 4x4 with their day-to-day repair and service work, including oil changes and general vehicle maintenance and checks, as part of his work placement.

The teenager is keen to gain a job in the automotive industry and this placement has provided invaluable experience to help him gain his first role.

Chris Ferguson, co-owner of North Eastern 4x4, said: "It has been great having James as part of the team at North Eastern 4x4. He is extremely hard working and got stuck in from day one, picking things up really quickly and always eager to learn.

"When I was approached by the team at The Prince's Trust, I was more than happy to take on James for work experience. I think it's really important to help youngsters who want to enter the industry gain invaluable experience, especially when they find themselves in challenging situations. This may be the start of a long partnership with The Prince's Trust."

James Stubbs said: "The Certificate in Employment, Teamwork and Community Skills (ETC) run by The Prince's Trust is a great opportunity and I've enjoyed everything that I've done to work towards the qualification so far.

"I've gained a lot from my time at North Eastern 4x4 and it's definitely the kick-start that I need to become a mechanic. I'd like to say a big thank you to Chris and the team at North Eastern 4x4 for the opportunity."

Martin Copley, Team Leader of the Middlesbrough Prince's Trust Team, said: "The work placement is a valuable part of the Certificate in Employment, Teamwork and Community Skills and the students on the course gain a lot from it. A lot of time and effort is put into matching students with their placements to ensure the best outcomes for everyone involved.

"We're really grateful to North Eastern 4x4 for supporting James and it's fantastic to see local businesses getting involved with The Prince's Trust."

The Prince's Trust, which was established in 1976, provides practical and financial support to young people who are unemployed or are struggling at school and at risk of exclusion. The trust assists with developing key skills, confidence and motivation, enabling young people to move into work, education or training.
Go Back